Cucurbit Downy Mildew
Photos and text by Debbie Roos, Agricultural Extension Agent.
Downy mildew has hit cucurbit crops on several area farms this week. The photos below were taken at just one farm. Both cucumbers and cantaloupes were affected.
Visit the North Carolina State University Cucurbit Downy Mildew website to learn more about this disease.
According to North Carolina State University plant pathologist Dr. Frank Louws, this year downy mildew was detected in NC a full 60 days earlier than usual, in early June. Normally downy mildew is not a big problem in the spring crop as it has been this year.
Normally downy mildew moves into NC following a track from Florida, through Georgia, then South Carolina, before finding its way into NC. This year it first showed up in Florida, then Texas, and then NC. Now it is all over the state and first showed up in cucumbers but now is also in cantaloupe. Spores can travel for miles in wind and storms.
This strain only affects cucumbers and melons. A different pathotype affects squash and those spores could move in at any time. Once downy mildew gains a foothold it is difficult to control.
Control strategies*
* Note: After posting this web page, I have already heard from several growers telling me they have had good results with this or that product on powdery mildew. Powdery mildew and downy mildew are not the same disease so what works on one will not necessarily work on the other.
Cultural strategies can help prevent downy mildew. Plant resistant varieties. Plant in locations with good air circulation. Use drip irrigation to minimize leaf wetness.
There are a number of OMRI-listed products purported to help control downy mildew in cucurbits: copper, neem, biofungicides (e.g., Serenade®), peroxides (e.g., OxiDate®), and bicarbonates (e.g., Kaligreen®). According to Dr. Louws, research has shown that copper is the best organic option, but only on the crops that show little to no symptoms. He said if the infection is far along not to bother spraying because it wouldn't do much good. Spray early in the morning to avoid phytotoxicity problems caused by spraying in the heat of the day. If the disease is present on the farm, a prophylactic application of a copper product can be made to curcurbit crops that show mild or no symptoms. If the weather does not favor the disease (which likes it warm and wet and humid), then the copper is more likely to suppress the disease. In other words, the copper may help but it may not be enough. (See Pesticide Use Guidelines).
In the case of the farm shown below, there is no point in removing infected crops to reduce the spread of spores because there are already so many spores present. It doesn't take many spores to cause an infection and there is no way to eradicate them all.
Because downy mildew can be so devastating to crops, growers are encouraged to monitor North Carolina State University's Cucurbit Downy Mildew website throughout the growing season and start applying prophylactic sprays to all cucurbits as soon as downy mildew is detected in the state. Once it is on your farm it is difficult to control organically.
Growers in western North Carolina should consult Agriculture Agent Sue Colucci's blog, WNC Vegetable and Small Fruits News. Sue is an area agent in western NC and is a plant pathologist and she will have updates on her site for the western region.
Check out Cornell's website for more information on copper products for organic production.
Visit the Cucurbit Downy Mildew website for control strategies for conventional growers.
Cucumbers: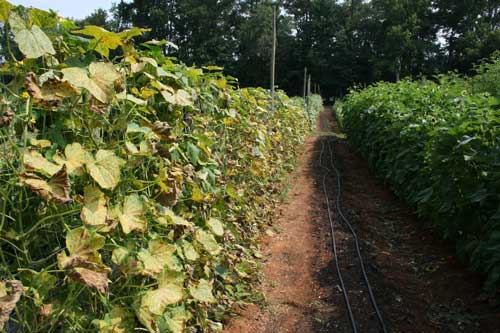 The symptoms progressed rapidly in cucumbers and started at the bottom of the vine. From the time the spotting is first noticed, two days later the entire planting is severely and uniformly affected. This variety is 'National Pickling'. Sunflowers grow on the right with bok choy recently seeded down the middle bed.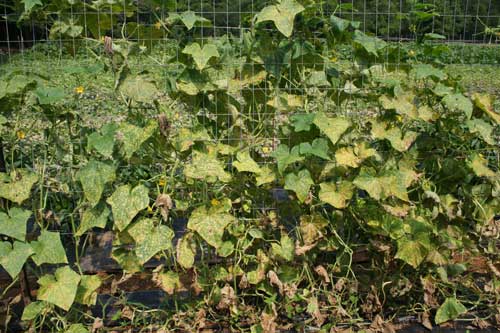 The growers said they actually saw the symptoms progress upward in the course of just one day and that from a distance it looked like the row of plants was on fire because of the way they were turning yellow.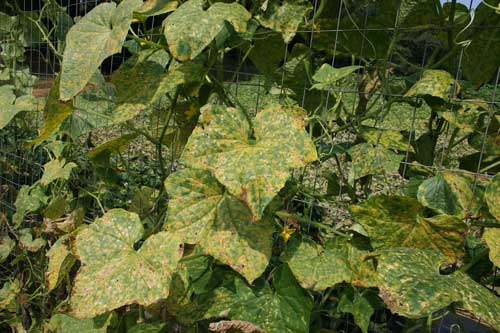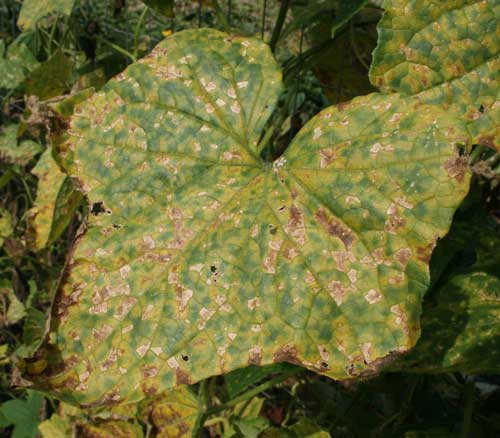 Close-up of an infected leaf.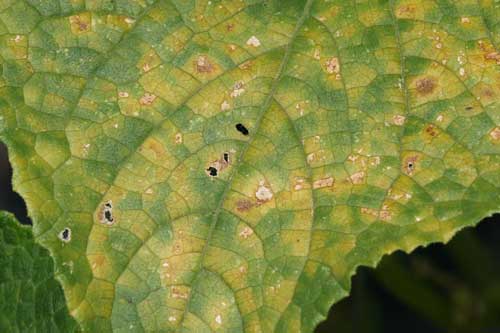 The leaf spots caused by downy mildew are yellow, angular, and restricted between the leaf veins. The interior part of the lesions often eventually turns brown. When the leaves are wet the white-gray fungus can often be seen in the lesions on the undersides of the leaves.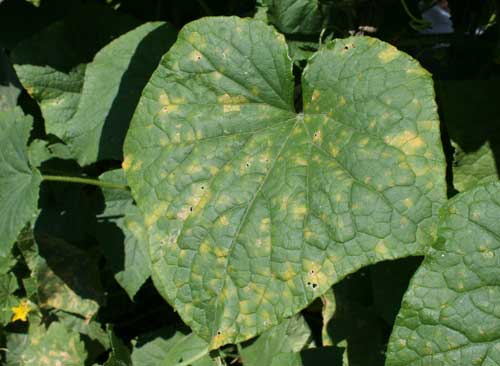 The 'Marketmore' cucumbers were also infected but the disease has not progressed as rapidly as it did in the 'National Pickling' variety.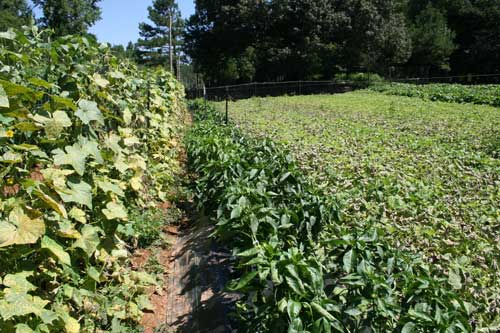 A row of peppers (untouched by the cucurbit disease) separates the cucumbers from the melons.
Cantaloupes: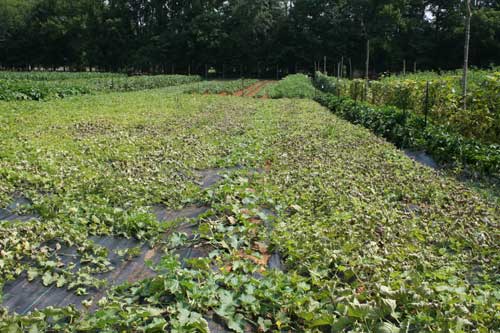 There was a sudden onset of symptoms in the 'Sweet Granite' cantaloupes during the second week of harvest – the field above looked fine on Saturday and by Monday all the rows were affected.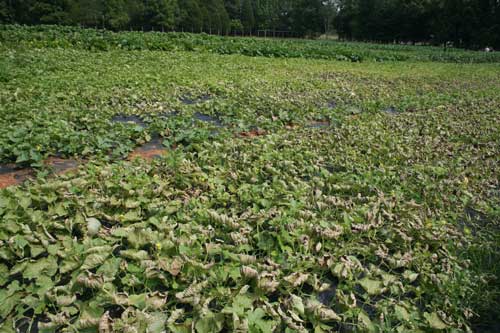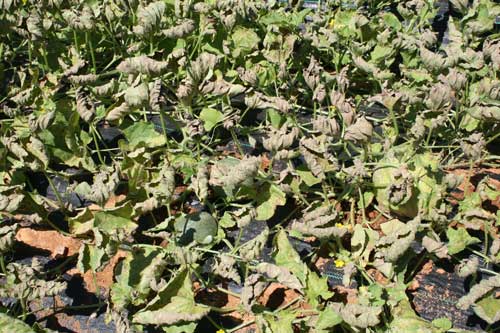 Downy mildew can cause leaf curling in melons.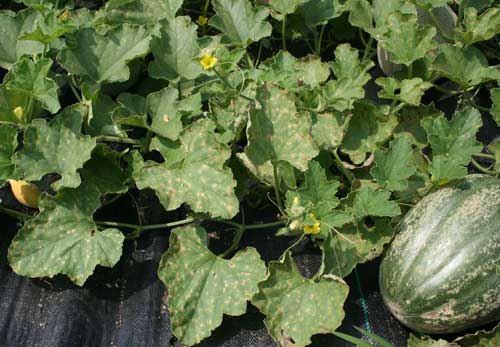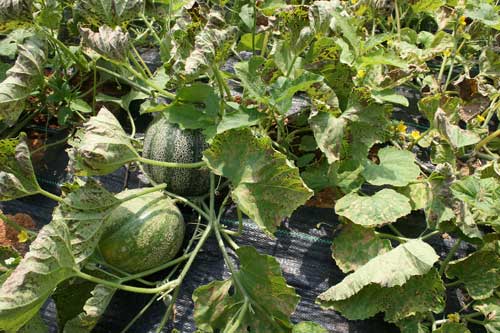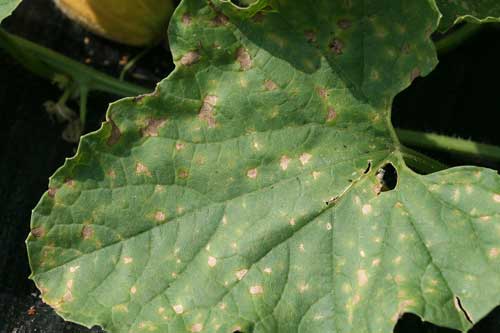 * These recommendations apply only to North Carolina. They may not be appropriate for conditions in other states and may not comply with laws and regulations outside of North Carolina. Certified organic growers should consult their certifier before using a new pesticide. Unless otherwise noted, these recommendations were current as of Jule 2009. Individuals who use pesticides are responsible for ensuring that the intended use complies with current regulations and conforms to the product label. Be sure to obtain current information about usage regulations and examine a current product label before applying any pesticide. For assistance, contact your county Cooperative Extension Service agent. The use of brand names and any mention or listing of commercial products or services in the publication does not imply endorsement by the North Carolina Cooperative Extension Service nor discrimination against similar products or services not mentioned.
This page last updated January 9, 2011.