Perry-Winkle Farm
Find this page at:
go.ncsu.edu/readext?177749
Photos and text by Debbie Roos, Agricultural Extension Agent.
Postharvest Handling and Marketing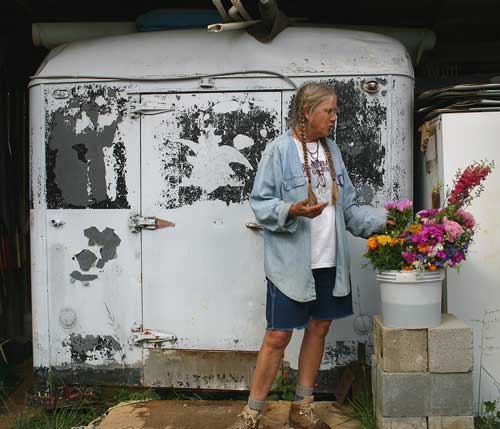 Once vegetables and flowers are harvested, all efforts go towards preserving their quality through proper postharvest handling practices. Each crop has its own unique requirements, but the first step is usually to remove the field heat.
Perry-winkle Farm uses an old refrigerated truck as their walk-in cooler (above).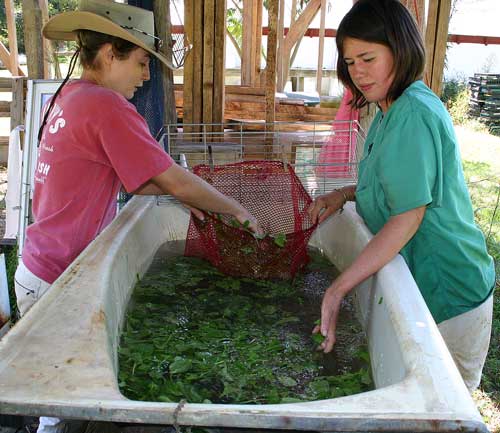 Chris and Emily wash freshly harvested salad greens in an old bathtub now used for washing produce. They are gently placed in a net laundry bag for further washing.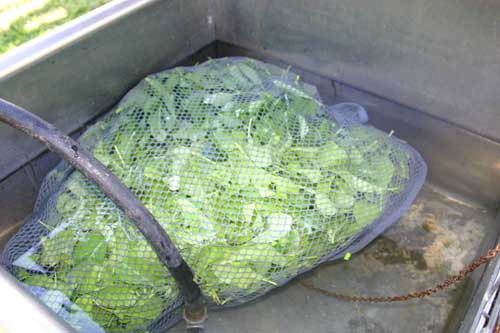 Greens are rinsed a second time in another sink of clean water while still in the net bag. The bags are then removed and allowed to drain.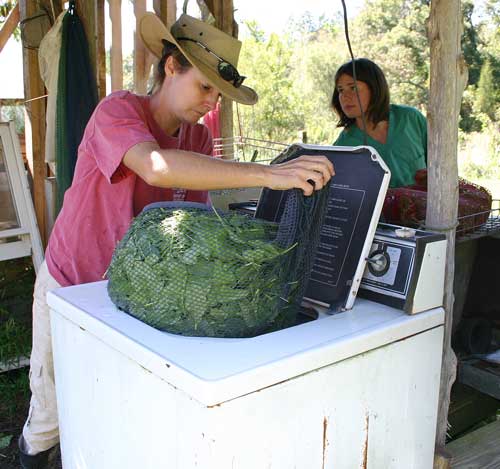 Chris places the net bags filled with greens in an old washing machine, where they are spun on two spin cycles until dry.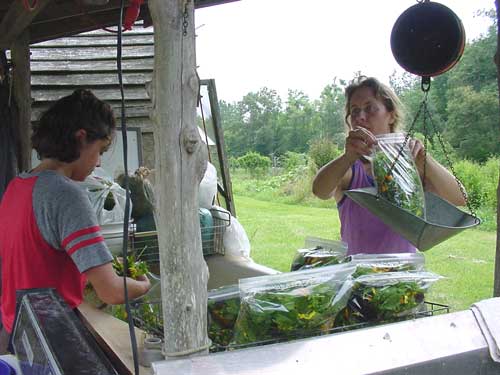 The bathtub doubles as a giant mixing bowl. Here Kate S. and Kate M. mix all the ingredients of their popular "mixed salad herbs" and bag up special orders for restaurants and for the farmers' markets.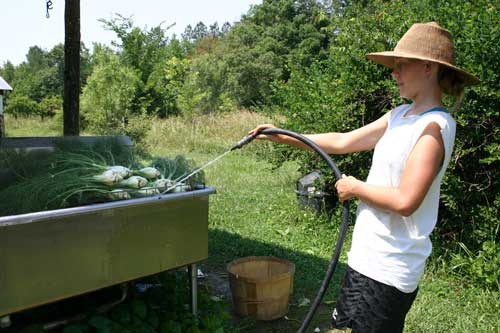 Melissa washes fennel with the jet nozzle.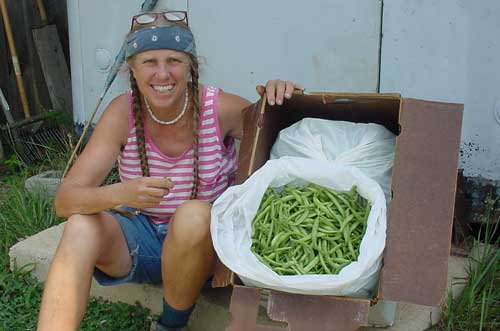 Cathy with the bountiful harvest of a flat Italian bean they grow.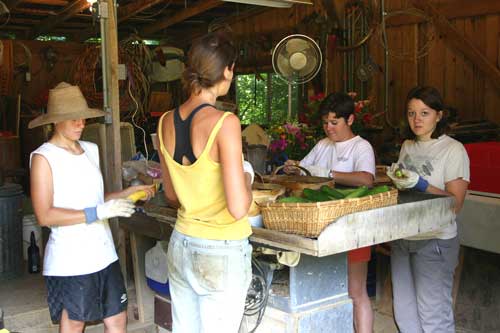 The farm crew wipes squash clean with cotton gloves.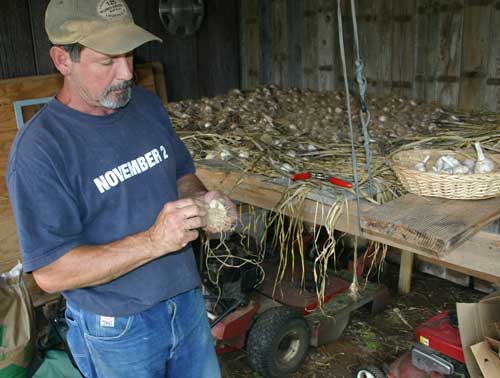 Mike preps cured garlic for sale. They sell both green garlic and dried garlic.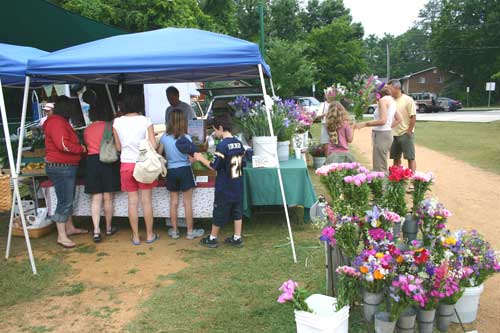 Perry-winkle direct markets the majority of their farm products. They sell at three farmers' markets every week: Tuesdays at Fearrington, and Wednesdays and Saturdays at Carrboro.
Above, a typical market day at the Saturday Carrboro Farmers' Market, where Perry-winkle Farm occupies a prime corner spot. Carrboro is their largest market and they have sold there since 1994.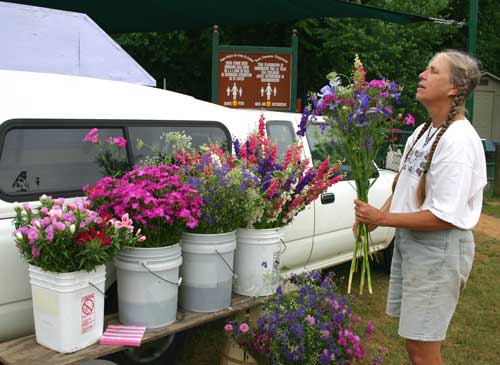 Cathy transports her flower shop to the farmers' market for creating bouquets on-site, which really helps draw customers in. She makes each bouquet to order.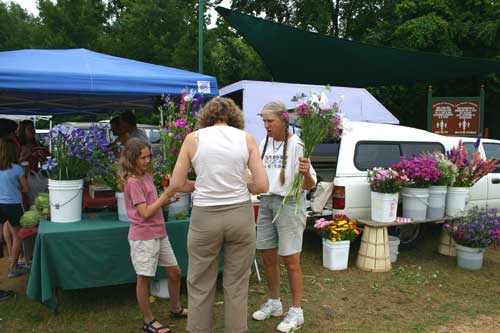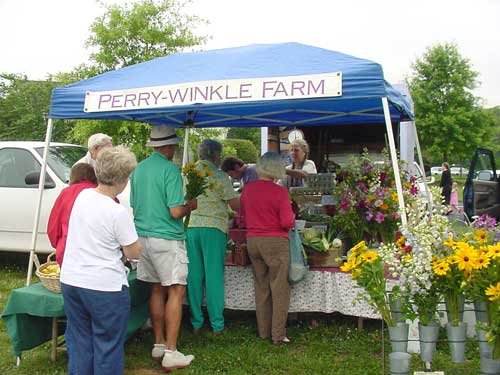 Cathy and Mike at the Fearrington Farmers' Market. They have been there since its opening in 1991. Perry-winkle has been able to grow with the Fearrington Market, starting out small and growing as it grew.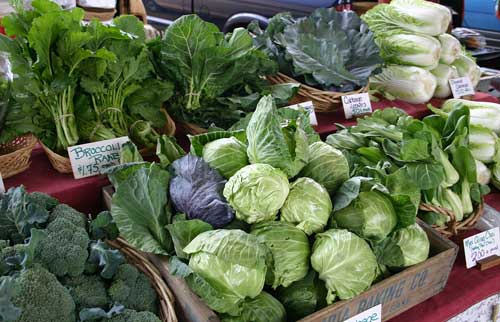 Cool-season offerings at the Carrboro Thanksgiving market.