Chatham Mills "Pollinator Paradise" Demonstration Garden
Find this page at:
go.ncsu.edu/readext?171802
What's in Bloom?
October 24, 2011
Photos by Debbie Roos, Agricultural Extension Agent.
All plants native to the North Carolina Piedmont unless otherwise noted.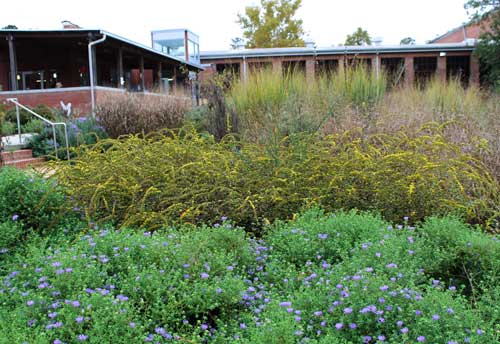 Native grasses (Panicum sp.) with goldenrod and asters.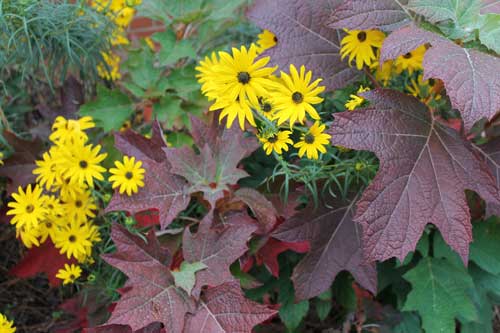 Swamp sunflower (Helianthus angustifolius)
with oakleaf hydrangea (Hydrangea quercifolia).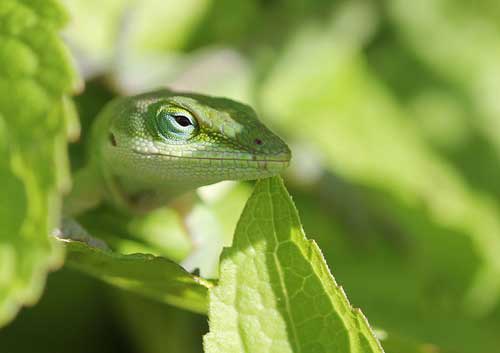 This Carolina anole was hanging out in the mistflower
(
Conoclinium coelestinum
), catching some insects for lunch.
Here's what's blooming this week:
Abelia x grandiflora

Abelia

* exotic

Achillea x 'Paprika'

Yarrow

* exotic

Agastache x 'Blue Fortune'

Anise hyssop

* hybrid of U.S. native

Agastache rupestris

Licorice hyssop

* native to southwest U.S.

Ampelaster carolinianus

Climbing aster

Conoclinium coelestinum

Wild ageratum/mistflower

Conradina canescens

Gray-leaved conradina

Coreopsis auriculata

Lobed tickseed

Coreopsis pubescens 
'Sunshine Superman'

Tickseed

Coreopsis tripteris

Tall tickseed

Coreopsis verticillata 'Moonbeam'

Threadleaf coreopsis

Echinacea purpurea
'Kim's Knee High'

Purple coneflower

Echinacea purpurea
'Tiki Torch'

Purple coneflower

Eupatorium dubium

Joe-pye weed

Eupatorium perfoliatum

Boneset

Eurybia divaricatus

White wood aster

Gaillardia 'Arizona Sun'

Lanceleaf blanketflower

Gaillardia 'Burgundy'

Lanceleaf blanketflower

Gaillardia 'Oranges and Lemons'

Lanceleaf blanketflower

Gaillardia 'Tizzy'

Lanceleaf blanketflower

Gaillardia 'Torchlight'

Lanceleaf blanketflower

Geranium 'Dilys'

Hardy geranium

* exotic

Geranium 'Rozanne'

Hardy geranium

* exotic

Helenium 'Carnival'

Sneezeweed

Helianthus angustifolius
'Gold Lace'

Swamp sunflower

Heliopsis helianthoides 'Summer Nights'

Oxeye daisy

Kosteletzkya virginica

Seashore mallow

Lonicera sempervirens 'Cedar Lane'
and 'Major Wheeler'

Honeysuckle

Lonicera sempervirens 'John Clayton'

Honeysuckle

Monarda fruticulosa

Spotted beebalm

* native to Texas

Monarda punctata

Spotted horsemint

Nepeta ' Walker's Low'

Catmint

* exotic

Passiflora incarnata

Passion flower vine

Phlox nivalis 'Snowdrift'

White moss phlox

Phlox paniculata 'Delta Snow'

Garden phlox

Physostegia virginiana
'Miss Manners'

Obedient plant

Ratibida columnifera

Prairie coneflower / Mexican hat

Rosmarinus officinalis
'Tuscan Blue'

Rosemary

* exotic

Rudbeckia fulgida

Orange coneflower

Rudbeckia triloba

Brown-eyed susan

Salvia farinacea 'Victoria Blue'

Mealycup sage

* native to southwestern U.S.

Scutellaria incana

Hoary skullcap

Sedum 'Autumn Joy'

Stonecrop

* exotic

Solidago caesia

Bluestem goldenrod

Solidago odora

Sweet goldenrod

Solidago rugosa 'Fireworks'

Rough-leaf goldenrod

Solidago speciosa

Showy goldenrod

Stokesia laevis
'Peachie's Pick'

Stokes' aster

Symphyotrichum concolor

Eastern silvery aster

Symphyotrichum cordifolium

Blue wood aster

Symphyotrichum novae-angliae

New England aster

Symphyotrichum oblongifolium 
'October Skies'

Aromatic aster

Symphyotrichum oblongifolium 
'Raydon's Favorite'

Aromatic aster

Tradescantia x 'Purple Profusion'

Spiderwort

Verbena canadensis 'Homestead Purple'

Verbena

Vernonia lettermanii

Threadleaf ironweed