Chatham Mills "Pollinator Paradise" Demonstration Garden
Find this page at:
go.ncsu.edu/readext?171929
What's in Bloom?
June 19, 2010
Photos by Debbie Roos, Agricultural Extension Agent.
All plants native to the North Carolina Piedmont unless otherwise noted.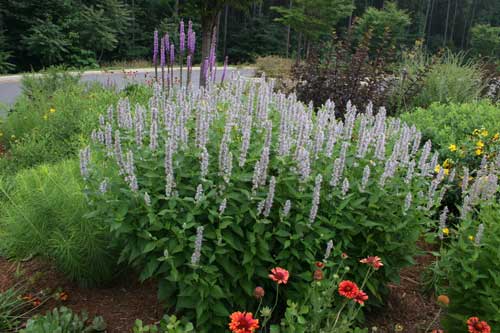 Anise hyssop (Agastache x 'Blue Fortune') surrounded by blazing star (Liatris spicata),
ninebark (Physocarpus opulifolius), St. John's wort (Hypericum frondosum),
and blanketflower (Gaillardia sp.).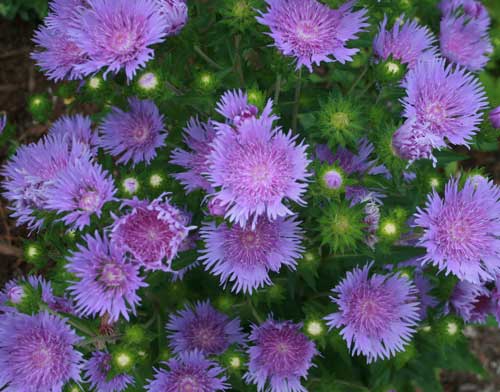 All garden visitors want to know about Stoke's aster (Stokesia laevis)!
It's quite the workhorse with gorgeous color and a long bloom season.
  Here's what's blooming this week:
Abelia x grandiflora

Abelia

* exotic

Achillea x 'Paprika'

Yarrow

* exotic

Agastache x 'Blue Fortune'

Anise hyssop

* exotic

Agastache x 'Golden Jubilee'

Anise hyssop

* exotic

Agastache rupestris

Licorice hyssop

* native to southwest U.S.

Allium cerneum

Nodding onion

Aquilegia chrysantha

Golden columbine

* native to southwestern U.S.

Asclepias tuberosa

Butterfly weed

Baptisia alba

White wild indigo

Callirhoe digitata

Fringed poppy mallow (winecup)

Coreopsis auriculata

Lobed tickseed

Coreopsis pubescens 'Sunshine Superman'

Tickseed

Coreopsis tripteris

Tall tickseed

Coreopsis verticillata 'Moonbeam'

Threadleaf coreopsis

Echinacea purpurea 'Fragrant Angel'

Purple coneflower

Echinacea purpurea 'Harvest Moon'

Purple coneflower

Echinacea purpurea 'Kim's Knee High'

Purple coneflower

Echinacea purpurea 'Magnus'

Purple coneflower

Echinacea purpurea 'Ruby Star'

Purple coneflower

Echinacea purpurea 'Sundown'

Purple coneflower

Echinacea purpurea 'Tiki Torch'

Purple coneflower

Eupatorium perfoliatum

Boneset

Foeniculum rubrum

Bronze fennel

Gaillardia 'Burgundy'

Lanceleaf blanketflower

Gaillardia 'Oranges and Lemons'

Lanceleaf blanketflower

Gaillardia 'Tizzy'

Lanceleaf blanketflower

Gaillardia 'Torchlight'

Lanceleaf blanketflower

Geranium 'Dilys'

Hardy geranium

* exotic

Geranium 'Rozanne'

Hardy geranium

* exotic

Helenium autumnale

Sneezeweed

Heliopsis helianthoides 'Summer Nights'

Oxeye daisy

Hypericum frondosum 'Sunburst'

Shrubby St. John's wort

Liatris spicata

Gayfeather

Lonicera sempervirens 'Cedar Lane'
and 'Major Wheeler'

Honeysuckle

Lonicera sempervirens 'John Clayton'

Honeysuckle

Monarda fistulosa 'Claire Grace'

Bee balm

Monarda fruticulosa

Spotted beebalm

* native to Texas

Nepeta 'Walker's Low'

Catmint

* exotic

Origanum laevigatum 'Herrenhausen'

Ornamental oregano

* exotic

Oxydendrum arboreum

Sourwood

Parthenium integrifolium

Wild quinine

Penstemon smallii

Small's beard tongue

Phlox paniculata 'Delta Snow'

Garden phlox

Pycnanthemum incanum

Mountain mint

Pycnanthemum virginianum

Virginia mountain mint

Ratibida columnifera

Prairie coneflower / Mexican hat

Rudbeckia fulgida

Orange coneflower

Rudbeckia hirta 'Cherry Brandy'

Gloriosa daisy

Salvia farinacea 'Victoria Blue'

Mealycup sage

* native to southwestern U.S.

Scutellaria incana

Hoary skullcap

Solidago speciosa

Showy goldenrod

Spirea tomentosa

Hardhack

Stokesia laevis 'Mary Gregory'

Stokes' aster

Stokesia laevis 'Peachie's Pick'

Stokes' aster

Symphyotrichum novae-angliae

New England aster

Thymus vulgaris

English thyme

Verbena canadensis 'Homestead Purple'

Verbena

Veronicastrum virginicum

Culver's root