Heirloom Apple Production
Find this page at:
go.ncsu.edu/readext?214199
en Español

El inglés es el idioma de control de esta página. En la medida en que haya algún conflicto entre la traducción al inglés y la traducción, el inglés prevalece.

Al hacer clic en el enlace de traducción se activa un servicio de traducción gratuito para convertir la página al español. Al igual que con cualquier traducción por Internet, la conversión no es sensible al contexto y puede que no traduzca el texto en su significado original. NC State Extension no garantiza la exactitud del texto traducido. Por favor, tenga en cuenta que algunas aplicaciones y/o servicios pueden no funcionar como se espera cuando se traducen.

English is the controlling language of this page. To the extent there is any conflict between the English text and the translation, English controls.

Clicking on the translation link activates a free translation service to convert the page to Spanish. As with any Internet translation, the conversion is not context-sensitive and may not translate the text to its original meaning. NC State Extension does not guarantee the accuracy of the translated text. Please note that some applications and/or services may not function as expected when translated.

Collapse ▲
Photos and text by Debbie Roos, Agriculture Extension Agent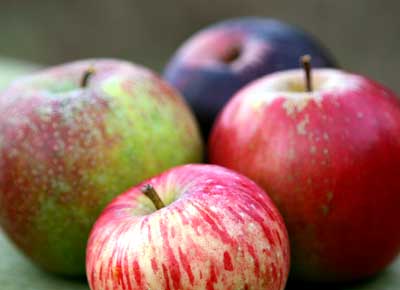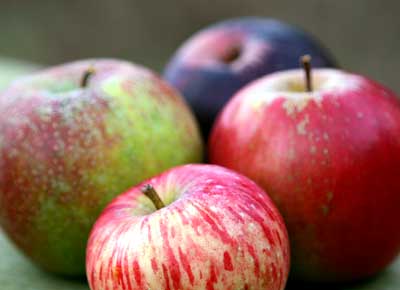 With so much interest these days in local food, many people have initiated or expanded vegetable gardens at their homes and reaped the rewards of growing their own food for the dinner table. New community gardens and farmers' markets are popping up in communities around the country as folks experiment with what they can grow and produce locally. This enthusiasm extends beyond growing to include home cooking and food preservation, both of which have seen a resurgence of interest in many communities. Interest in fruit production has increased, and many growers are considering apple varieties that can be used not only for fresh eating but for cooking and baking, drying, vinegar and cider production.
The apple, Malus domestica, has been cultivated in the southern U.S. since the 1600s. These old southern apples performed well in our hot, humid climate and were an important part of the diet of our ancestors. Over 1,800 varieties of apples were grown in the southern region but sadly the majority of these are now extinct. Chatham County North Carolina resident Lee Calhoun is perhaps the world's leading expert on heirloom southern apples and has worked for over 30 years to trace the history and conserve important heirloom varieties. Lee's book Old Southern Apples, Revised & Expanded: a Comprehensive History and Description of Varieties for Collectors, Growers, and Fruit Enthusiasts is a must-read for anyone interested in learning about the history, use, and production of heritage apples.
Apple trees have a naturally erect growth habit and are usually trained to a central leader system with a primary trunk. In the piedmont region of North Carolina, apples bloom in the spring around the same time as the dogwood trees, and fruit can be harvested from June through November depending on the variety.
All fruit trees are vegetatively propagated through either grafting or budding. This ensures that the tree will retain the exact characteristics of the parent, whereas if you planted the seed from an apple fruit, it would produce plants that were a genetic mix of the two parent plants. The scion is the top part of the tree that produces the fruit and it is grafted onto rootstock, which is selected based on the qualities important to the grower (see rootstock discussion below).

Pollination Considerations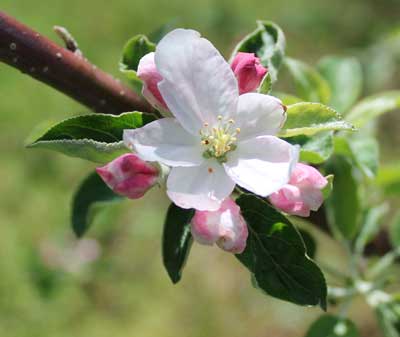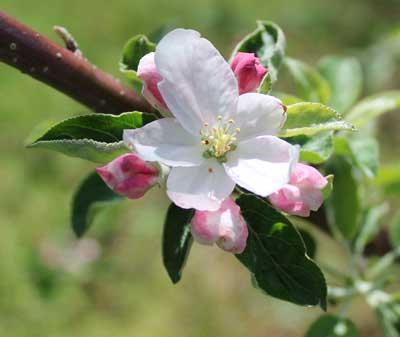 Apples are self-incompatible, which means that the blooms must be fertilized with the pollen of a different variety in order to achieve good fruit yield and quality. Growers will need to plant at least two different varieties to achieve cross-pollination (make sure and select varieties that bloom at the same time). Some varieties produce sterile pollen and cannot be used as pollinizers, so choose varieties carefully. Bees are required to transfer the pollen from one bloom to another. Native bees and honey bees both play an important role in pollinating apples. Be careful not to spray insecticides during the apple bloom period in order to protect these foraging pollinators.

Cultivars
There are many heirloom apple varieties to choose from. Consider the qualities you are looking for: do you want to spread out your harvest over the entire season, from June through November? Or do you want to concentrate your harvest in one season, like the fall? How do you plan to use the apples – to eat fresh, to make pies, to make vinegar or cider? Apples used for cooking, baking, and drying have different qualities from apples consumed fresh. Some heirloom apple varieties might not taste good when eaten fresh but were valued because they retained their white color when dried or made good applesauce or cider or would store through the winter without refrigeration.
Lee Calhoun shared his list of good heirloom apples for the North Carolina piedmont region below. This is a starter list and is not intended to be comprehensive as there are many other varieties you may want to consider depending on your selection criteria.
Remember that apples require cross pollination from a different variety so be sure and select varieties that have overlapping bloom times.
Early Apples  (June – July)
*Aunt Rachel
Chimney
*Early Joe
Red June
Early Strawberry
*Yellow Transparent
Midseason Apples  (August – September)
*American Golden Russet
*Carter's Blue
*Crow Egg
*Dixie Red Delight
Hoover
Horse
*Hunge
*Jake's Seedling
*Lacy
Magnum Bonum
*Red Rebel
Summer King
Late Apples (October – November)
Arkansas Black
*Black Limbertwig
*Blacktwig
Grimes Golden
Keener Seedling
Ingram
*Mattamuskett
*Red Royal Limbertwig
Sulser Red
*Terry Winter
Yates
*Virginia Beauty
*Some cedar-apple rust resistance
Red June, Yellow June, and Gravenstein are early season apples that make good applesauce. If you want to make pie, you want an apple that doesn't fall to pieces when cooked, so Horse, Hunge, Aunt Rachel, and Mary Reid would be good choices. Mid-season apples that cook well include Magnum Bonum, Blacktwig, Stayman, and Grimes Golden. If you want a tart apple to eat fresh, consider Blacktwig, Stayman, and Magnum Bonum. If you prefer a sweet apple grow Grimes Golden, Virginia Beauty, or a Limbertwig. Apples for cider production include Grimes Golden, Magnum Bonum, Virginia Beauty, Stayman, Royal Limbertwig, American Golden Russet, Blacktwig, and Winesap.

Rootstocks
When planning an apple orchard one of the first decisions a grower makes is the type of rootstock. Rootstock can determine the size of the tree (full size, semi-dwarf, dwarf) and can also affect the number of years until the tree bears fruit. Some rootstocks offer pest resistance.
There is a wide range of growth and vigor with apple rootstocks. Most growers select semi-dwarf or dwarf rootstock. High density plantings (400-500 trees per acre) like those favored by many commercial apple growers use dwarfing rootstock to increase yields and production efficiency.
Most heirloom apple tree nurseries offer a handful of rootstock choices. Semi-dwarf apple rootstocks include MM.111 (14-16′ tree at maturity) and M.7 (12-14′ tree at maturity). Bud.9 is a commonly used dwarf rootstock which produces an 8-10′ high tree at maturity. Dwarf apple trees must be permanently supported by staking and/or trellising.

Site Selection and Preparation
Proper site selection is critical to the success of an apple orchard, no matter the size. Choose a site that receives full sun and where the apple trees will not be shaded by trees or buildings during any part of the day. Consider air drainage – avoid low-lying frost pockets by selecting a site where cold air cannot settle and kill the apple blossoms or developing fruit in the spring. If possible plant the apple trees at the top of a slope so that cold air can flow unimpeded down away from the trees. Do not plant apple trees near fences, buildings, wooded areas, or in low-lying areas, all which can impede air flow and result in frost pockets.
Choose a site that has well-drained soils so that your apple trees don't endure long periods of standing water after significant rains. Conduct a soil test prior to planting to assess nutrient requirements and soil pH. For best results, take two different samples from the site: the first at a depth of 1-8″ and then another at a depth of 8-16″. This will help determine the type and amount of soil amendments needed prior to planting that will best benefit the root zone of the trees. Add lime and nutrients if needed prior to planting based on soil test results and incorporate to a depth of at least 18″.
Before planting, remove all grass and weeds from the planting area. If planting in a row, remove vegetation in a 4-5′ wide row. If planting individual trees, remove vegetation from a 4′ diameter circle around each planting hole. Grass roots compete with fruit tree roots for nutrients and water and can significantly decrease tree growth and fruit yield.

Planting
The best time to plant apple trees in North Carolina is from late fall to early spring. Once you get your trees from the nursery, do not let the roots dry out. Dig a hole for the tree that is about twice the diameter of the root ball and approximately two feet deep. Make sure the sides of the hole are loose and not slick from digging so that roots can easily grow (rough up the hole edges with a shovel if needed). If planting several trees in a row it is helpful to use a subsoiler to break up the soil in the root zone.
When planting, make sure the graft union of the tree is above the soil line or else the scion will send out roots and override the rootstock. Spread the roots out in the planting hole and begin covering with loose soil, gently pressing down to remove any potential air pockets. Do not add anything but loose soil to the planting hole – do not add fertilizer at this time. Once the hole is filled, water the tree in to ensure good soil contact with the roots. Make sure the tree is not planted too deep and that the graft union is above ground.
Tree spacing will depend on the rootstock and pruning and training techniques. Semi-dwarf trees are typically planted 12-20′ apart within the row depending on the rootstock, and 15-20′ between rows. Dwarf trees can be planted 4-10′ apart within the row (depending on the rootstock and how they are pruned and trained) and 10-15′ between rows.
Management
Fertility: Proper nutrition is required to produce good yields of quality fruit. Determine nutrient requirements through annual soil tests, summer leaf sampling, and visual observation of tree growth. One should see about 12-18″ of new growth of the lateral branches each year on a tree with adequate nutrients; adjust nitrogen levels if growth is more or less than that. Apply fertilizer in the late winter or early spring by broadcasting it over the root zone out to the edge of the tree's drip line (the outermost edge of the branches); avoid spreading fertilizer within 6″ of the trunk.
Irrigation: Water young apple trees regularly as needed during dry periods, especially during the first two years while they are getting established. Continued irrigation throughout the life of the tree can play a positive role in crop yield and quality. Drip irrigation is a good option for the heavier clay soils of the piedmont region. Irrigation system decisions will be based on factors such as water source (surface water or well), water quantity, number of trees, and economics.
Pruning and Training: Tree pruning and training helps develop a strong tree that will produce high quality fruit for many years to come. In fact, proper pruning can actually help a tree produce fruit sooner and extend the life of the tree. Apple trees are pruned to a central leader system. Often growers are reluctant to prune a newly planted tree but that's the best time to start. The pruning and training done in the early years of the apple tree establishes its structural framework and influences its ability to bear fruit. Both dormant season pruning and summer pruning are done, each with different goals. Both are important and should not be neglected. Dormant pruning focuses on developing the scaffolding branches and central leader and is invigorating while summer pruning is primarily focused on removing undesirable growth such as upright branches or those competing with the central leader. Summer pruning helps to remove growth that shades fruit and decreases yield and quality. Once growth resumes in the spring, branches should be spread with toothpicks or clothespins (depending on the branch diameter) to encourage wide crotch angles (close to 90° is optimal). Branches with a narrow crotch angle often split under the weight of fruit and damage the trunk.
For details on pruning apple trees, read the North Carolina State University publication Training and Pruning Fruit Trees.
Fruit Thinning: Apple crops are thinned to encourage bloom the following year, to increase fruit size and quality, and to maintain tree growth. Only 5-10% of apple blooms are needed for a full crop, and if the fruit is not thinned then the branches can break under their weight. Apples can be thinned when the fruit is dime-sized and the aim is to have one fruit every 4-6″ along the branch.
Weed Management:  Grass and weeds under the drip line of the apple tree compete with the tree for water and nutrients and can have a significant negative effect on tree growth. Maintain a weed- and grass-free zone under the drip line from the trunk to the outermost tips of the branches. This can be done with herbicides or hand-weeding. Do not till the soil under the drip line because this damages tree roots and do not use a string trimmer as this can damage the tree trunk and kill the tree. Mulch can be used to suppress weeds and maintain a weed-free zone but do not put mulch within one foot of the trunk as it can provide cover for rodents such as voles that damage the tree roots.

Pest and Disease Control
Apple insect pests include aphids, scale insects, spider mites, caterpillars, Japanese beetles, plum curculio, and stink bugs. Horticultural oil can be sprayed just as green growth is starting to emerge in the spring to kill soft-bodied insects such as scale, mites, and aphids. Other insect pests will need to be controlled by using conventional or organic insecticides throughout the season. Do not apply insecticides while apples are blooming or it will kill bees and other foraging pollinators.
Vertebrate pests of apples include deer and voles, both which can cause severe damage. Growers should erect some type of deer fencing in areas with high deer pressure, especially to protect young trees. Voles tunnel underground and feed on tree roots. Do not place mulch within a foot of the tree trunk because mulch can provide protective cover for voles. Consult the NC State Extension publication Voles in Commercial Orchards and Ornamental Nurseries for details on vole monitoring and control.
Apple diseases include fire blight, cedar apple rust, scab, black rot, bitter rot, and others. Disease prevention starts with cultivar selection and then continues with proper sanitation techniques in the orchard. Remove dead and diseased wood and keep the orchard floor clear of dried apples and other debris. Disinfect pruning tools with a diluted (10%) disinfectant such as Lysol or bleach before and after pruning and in between each tree to prevent disease transmission. A regular preventative spray program will help reduce the incidence of disease.
Consult your county Extension agent for specific recommendations on insect and disease control for apples.

Harvest and Postharvest
It takes experience to know when apples are mature for harvest. Harvest dates depend on variety and climate and can vary from year-to-year. As the fruit approaches maturity, examine it for color changes that indicate the fruit is ripening, and then taste it! Ripe apples should be firm and crisp and tasty.
Store harvested apples at 32° F and high humidity to prolong the shelf-life. The crisper drawer of a refrigerator works well but do not store apples alongside vegetables or the ethylene emitted from the ripe apples may spoil the vegetables.

Plant Sources
North Carolina has two nurseries specializing in heirloom southern apples:

Sources of Additional Information