Garden Volunteers: Chatham Mills "Pollinator Paradise" Demonstration Garden
Find this page at:
go.ncsu.edu/readext?172200
Photos and text by Debbie Roos, Agricultural Extension Agent.
I really enjoy working in the pollinator garden on the weekends, but I couldn't keep the garden looking good without a dedicated group of volunteers to help me. We do not use any pesticides in the garden so insects and weeds are controlled by hand-picking and hand-weeding. Volunteers help weed (bermudagrass is our primary weed), plant, and mulch. I have an email list that I use to communicate with volunteers. Sometimes we schedule work days and tackle tasks in a small group. Other times I put out a list of what needs doing and people come on their own time. If you are interested in volunteering, email me and I will add you to the list. We can always use more help!
The photos below show a few of our volunteers in action.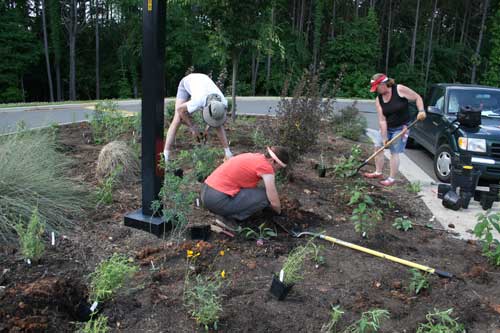 Planting the parking lot island (May 2009).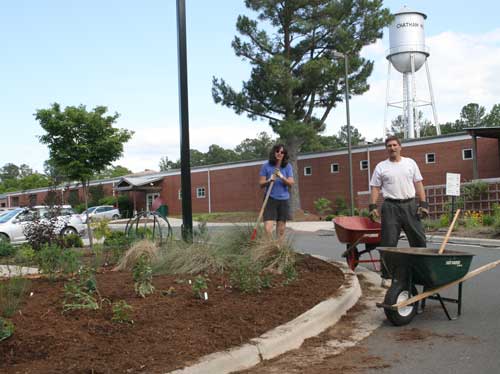 Patti and John Liegl on mulch duty (May 2009).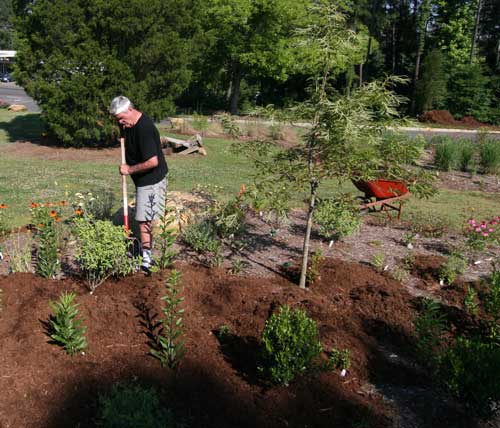 Mort Matheny spreads mulch (June 2009).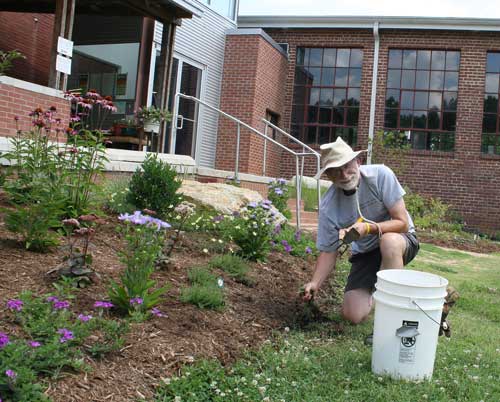 Gary Simpson weeds bermudagrass, our worst weed (June 2009).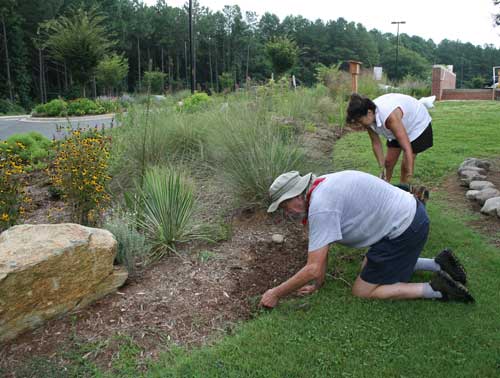 Ralph Davis and Patti Liegl on weed duty (August 2009).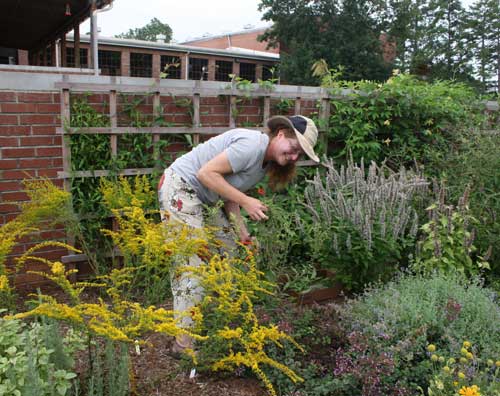 Lauri Lawson deadheads blooms. Lauri works at Niche Gardens
in Chapel Hill and has been a big help on the project (August 2009).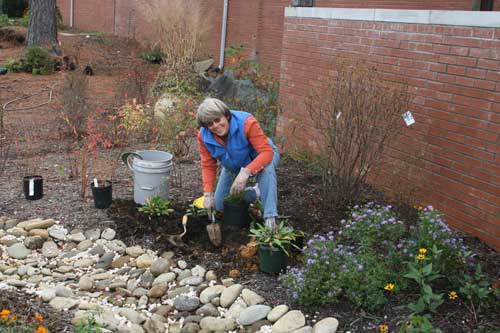 Louise Barnum fills in with more perennials in the fall (November 2009).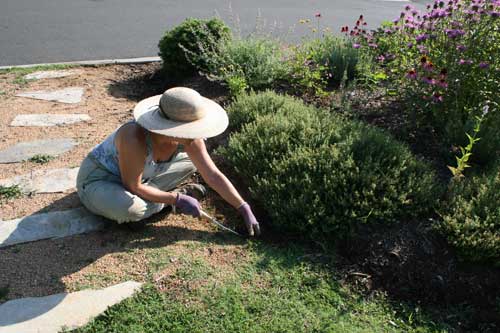 Kathy Morris weeds (June 2010).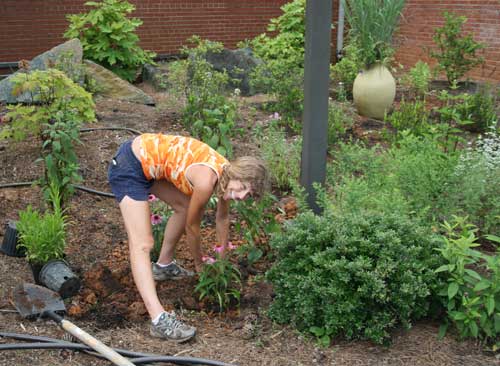 Heather Mehling adds a few more perennials (June 2010).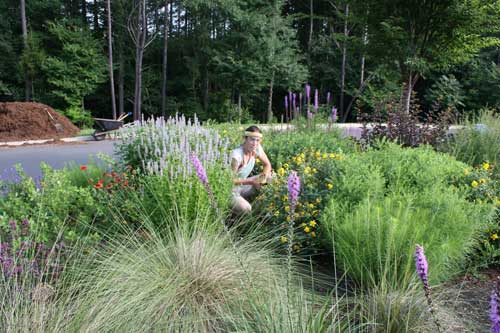 Nancy Oderkirk weeds before adding fresh mulch (June 2010).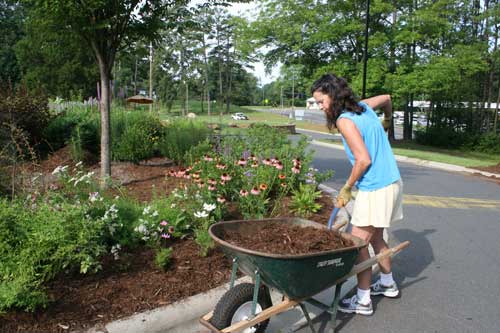 Patti Liegl mulching again (June 2010).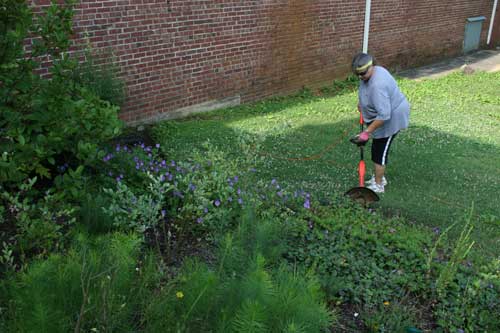 Pat Weisbrodt edges the beds with a weed trimmer (June 2010).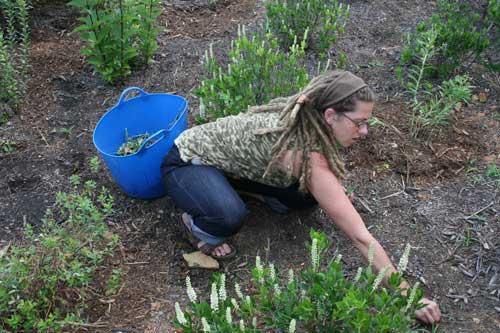 Carly Erickson weeds before putting down fresh mulch (July 2010).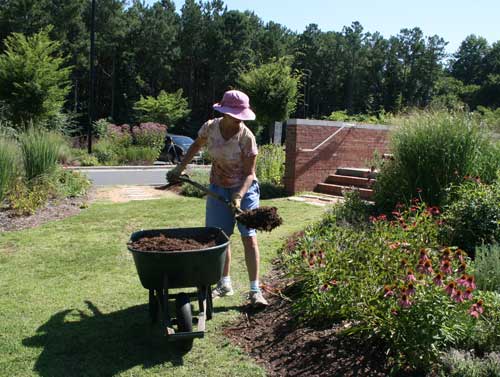 Robin Kohanowich is another member of the mulching team (July 2010).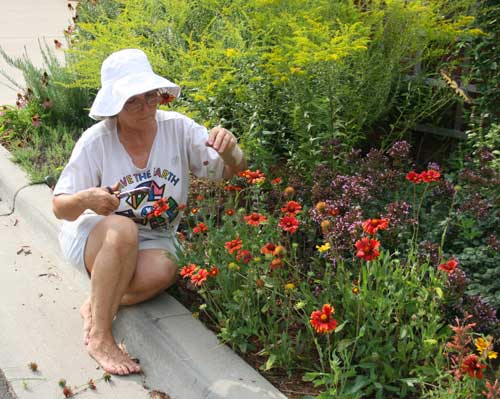 Jean Chapman on dead-heading duty (July 2010).