Farm Photo: National Pollinator Week Celebration
Find this page at:
go.ncsu.edu/readext?170525
Photos and text by Debbie Roos, Agricultural Extension Agent.
The Chatham County Center of North Carolina Cooperative Extension and the Chatham County Beekeepers' Association celebrated National Pollinator Week on Saturday, June 28, from 10:00 a.m. til 2:00 p.m.
This event was sponsored by Chatham Mills Development Corporation and hosted by Chatham Marketplace at The Lawn at Chatham Mills in Pittsboro, NC. Chatham Marketplace is a locally owned co-op grocery store committed to buying from local producers.
This is the second annual National Pollinator Week, initially proclaimed by the U.S. Secretary of Agriculture and a unanimous vote of the U.S. Senate in 2007. The purpose of Pollinator Week is to teach pollinator-friendly practices and raise public awareness of the importance of the bees, beetles, butterflies, moths, flies, birds, and bats that are needed to produce 80 percent of our flowering plants and one third of our human food crops. The National Academy of Sciences has reported that there is direct evidence of the decline of some pollinator species in North America. And, recently, Colony Collapse Disorder of honey bees has alarmed the agricultural industry.
Program Schedule:
10:00-10:30 a.m. – Beekeeping Demo in Bee Cage – Don Hopkins, Apiary Inspector Supervisor, North Carolina Department of Agriculture & Consumer Services –
10:30-11:00 a.m. – Kids and Bees – Michael Almond, Chatham County Beekeepers' Association
11:00-11:30 a.m. – Kids' Pollinator Scavenger Hunt
11:30 a.m.-12:00 p.m. – Beekeeping Demo in Bee Cage – Michael Almond, Chatham County Beekeepers' Association
12:00-12:30 p.m. – Basics of Beekeeping – Jim Williams, Chatham County Beekeepers' Association
12:30-1:00 p.m. – Beekeeping Demo in Bee Cage – Don Hopkins, North Carolina Department of Agriculture & Consumer Services
1:00-1:30 p.m. – Pollinator Conservation: How to Attract and Protect Pollinators – Debbie Roos, North Carolina Cooperative Extension, Chatham County Center
For more information about pollinator conservation, visit the Pollinator Conservation Guide at Cooperative Extension's Growing Small Farms website.
Visit the Chatham Beekeepers' Association website for more information about beekeeping and monthly meetings.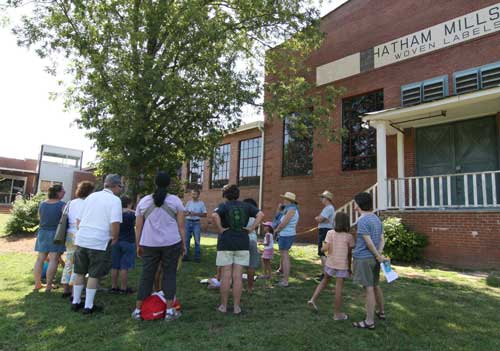 Chatham Beekeeper Michael Almond kicked off the event with a program on Kids and Bees.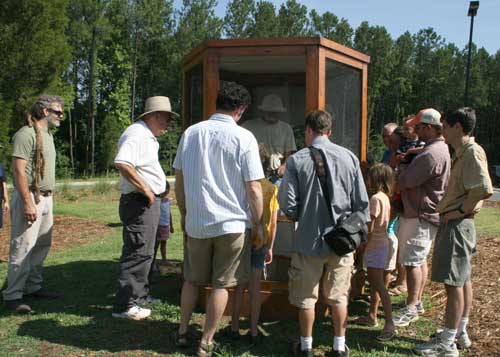 NCDA&CS Apiary Inspection Supervisor Don Hopkins conducts a session inside the bee cage, allowing observers to see the inner workings of a bee hive. The bee cage was a big hit at the event, attracting crowds all day.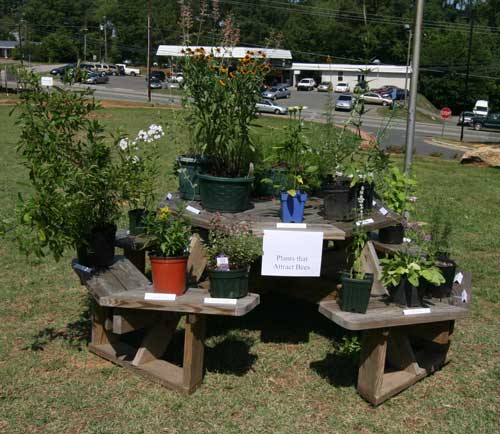 Visitors could see some examples of plants that provide forage for pollinators. I also did a session on how to protect and enhance pollinator habitat.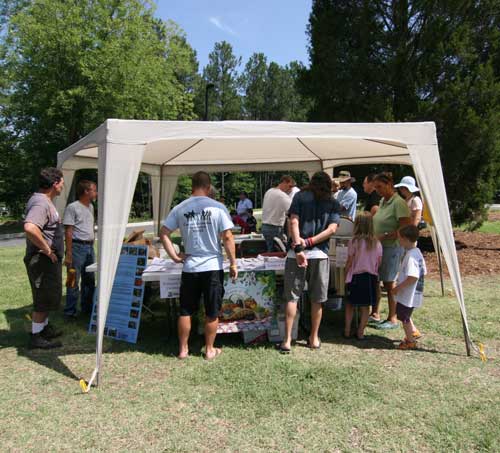 Members of the Chatham County Beekeepers' Association staffed tables to talk to visitors and answer questions about bees and beekeeping. Educational literature about bees and beekeeping was distributed throughout the day. Beekeeping equipment and products from the hive provided excellent props for "show and tell". Chatham County beekeepers provide the local honey sold at Chatham Marketplace.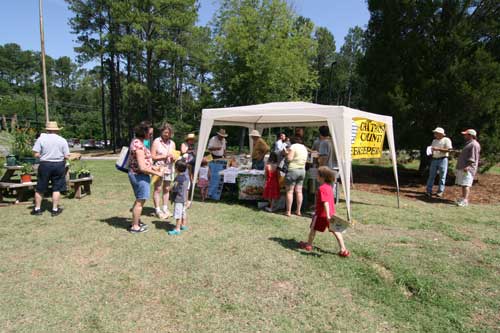 The pollinator-themed Kids' Scavenger Hunt was a big hit for folks of all ages! The scavenger hunt required folks to visit the displays and talk to beekeepers. They also had to go inside Chatham Marketplace to answer questions about food items that depend on pollinators. Participants received a handmade beeswax candle and beekeeping coloring book upon completion.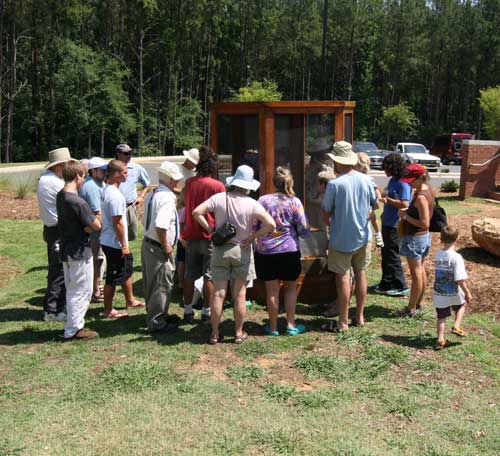 Another crowd gathers at the bee cage!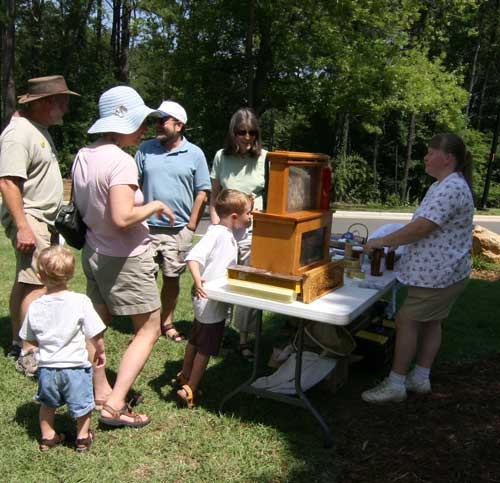 Chatham beekeeper Christina Teague brought her famous observation hive so visitors could watch "Bee TV" and see the worker bees attending the queen. It's mesmerizing!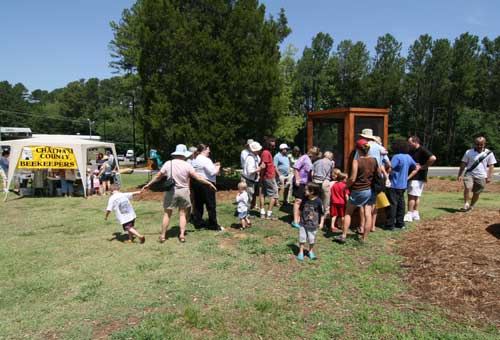 The event attracted folks of all ages who braved temperatures in the high 90s!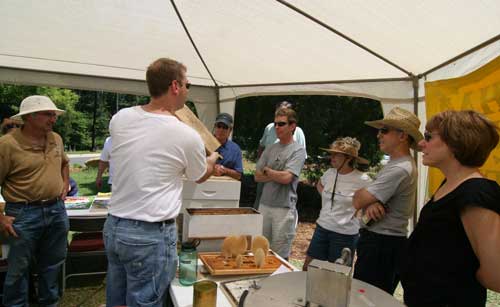 Chatham beekeeper Jim Williams (left, in hat) and North Carolina State University Apiculture Specialist Dr. David Tarpy kept busy all day talking to folks about bees.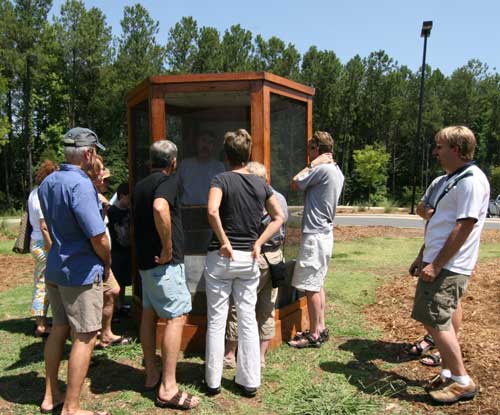 Beekeeper Michael Almond takes a turn inside the bee cage.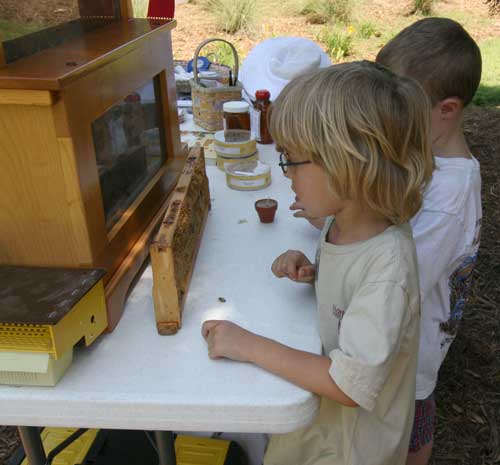 Shane and his friend Sam watches transfixed as new bees emerge from their cells.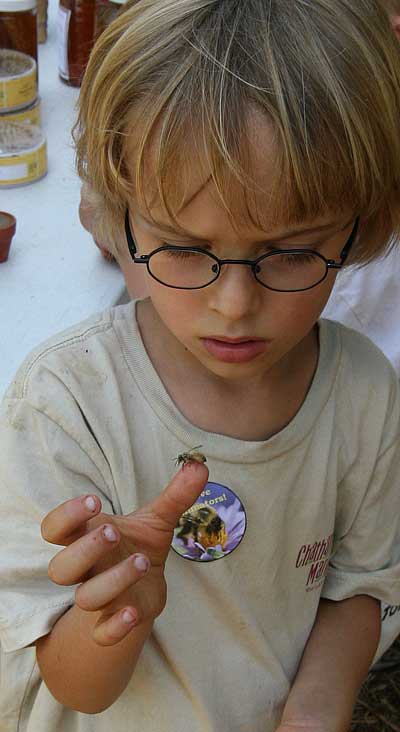 These newly emerged bees are very gentle and able to be handled by the kids.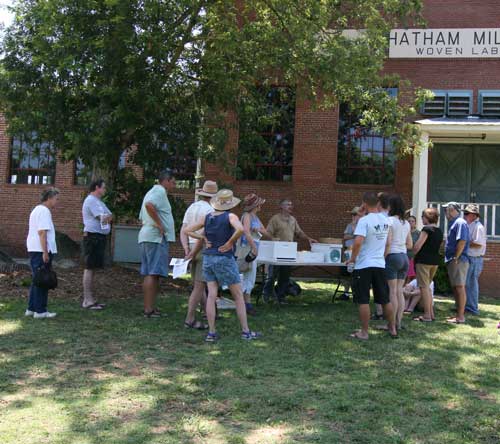 Chatham Beekeeper Jim Williams covers the basics of beekeeping to a rapt audience.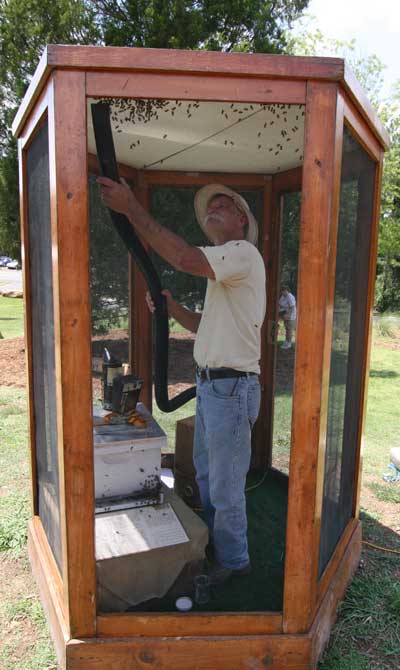 At the end of the event, somebody has to get the bees back into their hive! That duty fell to Don Hopkins who uses his special "bee vacuum" to get the girls back where they belong.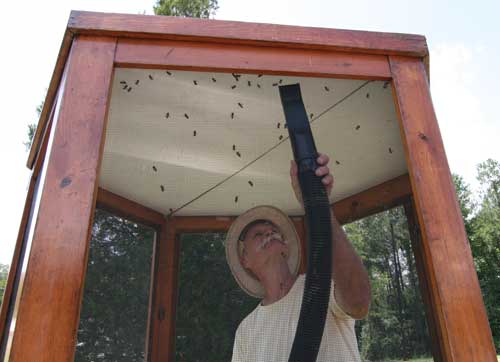 Don is a great friend of the Chatham Beekeepers, attending many of our meetings and often leading our field days. He's even been called upon to judge the Chatham Association's annual Cooking with Honey contest!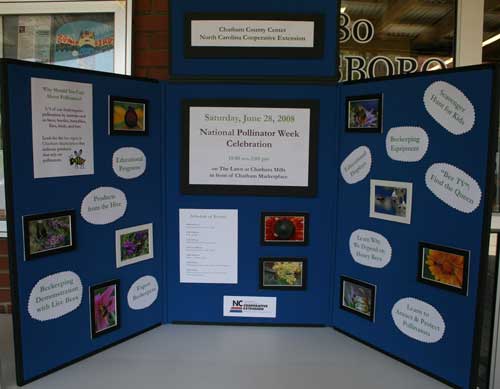 I created this display which sat on the porch of Chatham Marketplace throughout National Pollinator Week. It also included a 
brochure
 encouraging shoppers to learn which products depend on bees for pollination (hint: look for the bee signs inside the store!).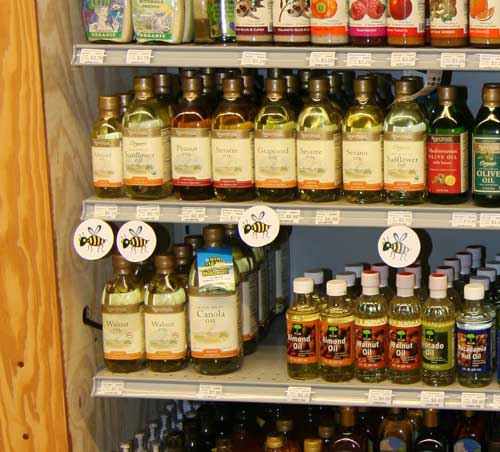 These bee signs were placed on items inside the store that depended on bees and other pollinators. This display shows some of the oils. The signs were placed on everything from produce to cut flowers to chips, herbs, fruit juices, meat and dairy, etc. For more information, view the pollinator brochure.
Participants were also encouraged to enjoy a pollinator-friendly local lunch at Chatham Marketplace during the program (did you know that worldwide, approximately 1,000 plants grown for food, beverages, spices, fiber, and medicine require pollination by animals?).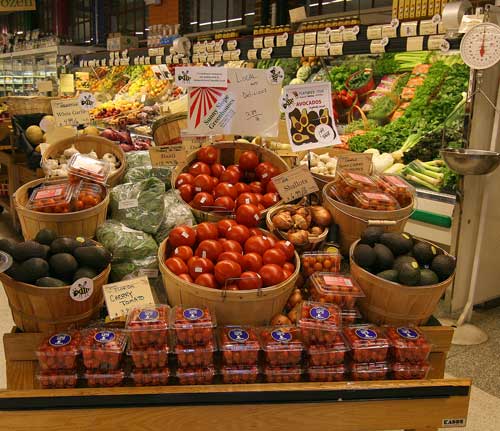 This display informs shoppers that the locally grown greenhouse tomatoes from 
Sunny Slope Greenhouses
 rely on domesticated bumble bees for pollination.