Tomato Harvest at Perry-Winkle Farm
Find this page at:
go.ncsu.edu/readext?170999
July 11, 2005
Photos by Debbie Roos, Agricultural Extension Agent.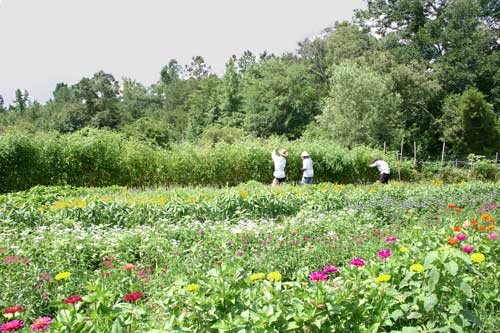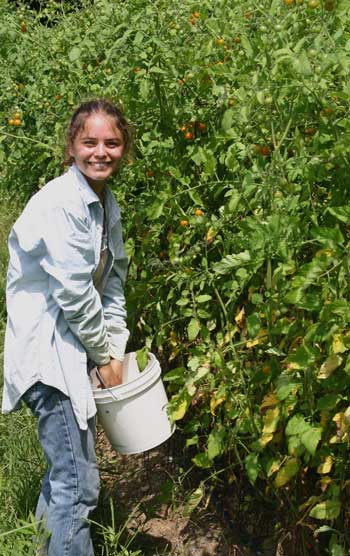 Tomato Harvest at Perry-winkle Farm
Cathy Jones and Mike Perry
Chapel Hill, NC
July is peak tomato harvest period and all hands are called on deck when it's time to harvest. In the top photo, Kelly, Cathy, and George harvest the perennially popular Sun Gold cherry tomatoes, a favorite at the markets for their candy-like sweetness. The tomatoes are surrounded by rows of Cathy's cut flowers, which provide great habitat for the beneficial insects that help control pests on the tomatoes. You can learn more about these natural enemies of pests by taking a virtual tour of the fabulous underworld of a tomato canopy from the summer of 2004 at Perry-winkle Farm.
Kate's sunny disposition shines through in the bottom photo, even as she fills her bucket under the sun's relentless rays!