"Pollinator Paradise" Demonstration Garden
Find this page at:
go.ncsu.edu/readext?171757
What's in Bloom?
April 23, 2012
Photos by Debbie Roos, Agricultural Extension Agent.
All plants native to the North Carolina Piedmont unless otherwise noted.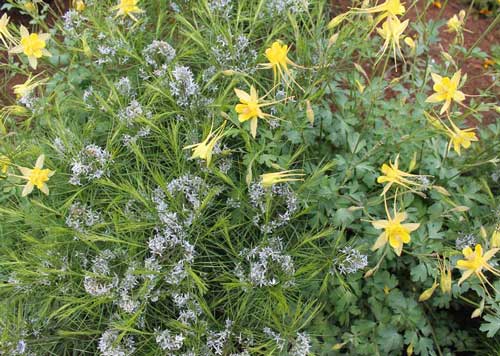 Golden columbine (Aquilegia chrysantha)
and bluestar (Amsonia hubrechtii).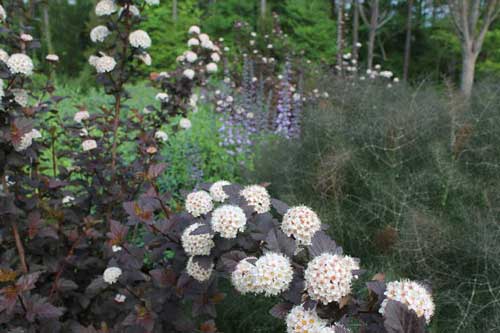 Eastern ninebark (Physocarpus opulifolius 'Diablo')
in front of bronze fennel and wild indigo
(Baptisia x 'Purple Smoke').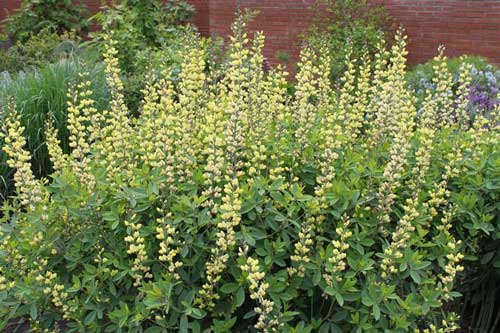 Wild indigo (Baptisia x 'Carolina Moonlight').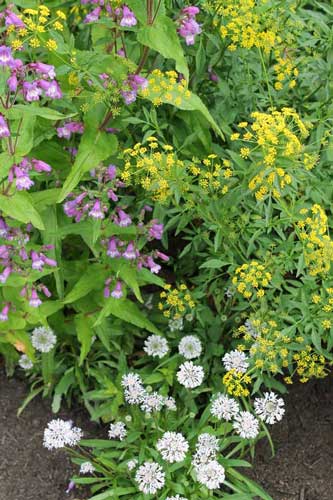 Purple small's beard tongue (Penstemon smallii)
blends nicely with golden alexander (Zizia aurea) and
Piedmont Barbara's buttons (Marshallia obovata).
Here's what's blooming this week:
Abelia x grandiflora

Abelia

* exotic

Achillea x 'Moonshine'

Yarrow

* exotic

Achillea x 'Paprika'

Yarrow

* exotic

Allium schoenoprasum

Chives

* exotic

Amsonia hubrechtii

Arkansas bluestar

Aquilegia canadensis

Eastern wild columbine

Aquilegia chrysantha

Golden columbine

* native to southwestern U.S.

Baptisia minor

Dwarf wild indigo

Baptisia 'Carolina Moonlight'

Wild indigo

Baptisia 'Purple Smoke'

Wild indigo

Conradina canescens

Gray-leaved conradina

* native to the U.S. Gulf coast

Coreopsis auriculata

Lobed tickseed

Coreopsis pubescens 
'Sunshine Superman'

Tickseed

Echinacea purpurea 'Sundown'

Purple coneflower

Gaillardia 'Burgundy'

Lanceleaf blanketflower

Geranium 'Dilys'

Hardy geranium

* exotic

Geranium 'Rozanne'

Hardy geranium

* exotic

Hydrangea quercifolia

Oakleaf hydrangea

Lavandula stoechas
'Purple Ribbons'

Spanish lavender

* exotic

Lonicera sempervirens
'Cedar Lane'
and 'Major Wheeler'

Honeysuckle

Lonicera sempervirens 'John Clayton'

Honeysuckle

Marshallia obovata

Piedmont Barbara's buttons

Monarda bradburiana

Wild bergamot

Nepeta ' Walker's Low'

Catmint

* exotic

Oenothera berlandieri 
'Siskiyou'

Sundrops

* southwest U.S.

Penstemon smallii

Small's beard tongue

Phlox nivalis 'Snowdrift'

White moss phlox

Physocarpus opulifolius 'Diablo'

Eastern ninebark

Rosmarinus officinalis
'Tuscan Blue'

Rosemary

* exotic

Salvia lyrata

Lyreleaf salvia

Sedum ternatum

Woodland stonecrop

Tiarella cordifolia

Foamflower

Tradescantia x
'Purple Profusion'

Spiderwort

Salvia farinacea 'Victoria Blue'

Mealycup sage

* southwest U.S.

Thymus vulgaris

English thyme

* exotic

Verbena canadensis
'Homestead Purple'

Verbena

Zizia aurea

Golden alexander