About the Chatham Mills "Pollinator Paradise" Demonstration Garden
Find this page at:
go.ncsu.edu/readext?172087
Photo and text by Debbie Roos, Agricultural Extension Agent.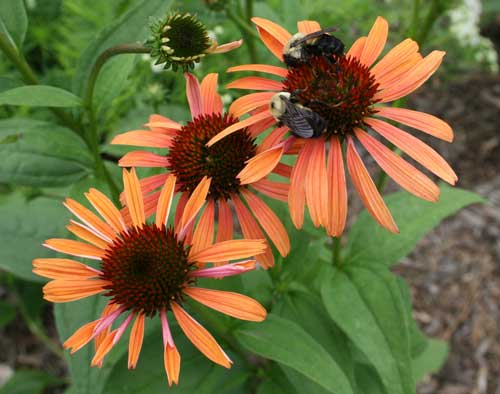 Bumble bees on coneflower (Echinacea purpurea).
In my job as an Agriculture Extension Agent here in Chatham County, I work with our wonderful community of small farmers who produce vegetables, herbs, cut flowers, eggs, meats, poultry, and much more for our farmers' markets, CSAs, and to restaurants and grocery stores like Chatham Marketplace. I also work with our local beekeepers and am a beekeeper myself. Of course farms and bees are closely linked, as over one-third of the food we eat relies on bees for pollination. I became passionate about pollinator conservation a few years ago and have been learning and doing educational programming ever since.
In 2007 I received a grant to establish demonstration sites for pollinator habitat. The grant was from a Chatham resident who wishes to remain anonymous. The funder was concerned about the loss of habitat in Chatham County and its effects on wildlife, including pollinators. I am forever grateful to this individual for allowing me such a wonderful opportunity to expand my outreach efforts to include field sites where I can do hands-on educational programming!
My overall goal for this project is to plant these demonstration pollinator gardens where people can learn about the pollinators we rely on and the plants that support them. These habitats can be on farms or in home gardens – every bit helps! In 2007 we established a demonstration pollinator habitat at the Piedmont Biofuels Industrial Plant to support Piedmont Biofarm which is on site. The habitat supports the honey bees and native bees which in turn pollinate the crops. In December 2008, we planted a pollinator habitat at Chatham Mills, home of Chatham Marketplace, Chatham County's local co-op grocery store. In December 2009 I partnered with Niche Gardens to plant a demonstration pollinator garden at the Executive Mansion in Raleigh, home of Governor Bev Perdue. We will plant our final site at the CCCC Student Farm in Pittsboro in the fall of 2010.
The habitat features native trees, shrubs, and forbs that provide resources for pollinators including bees and butterflies. A few non-native plants (mainly herbs) are also included because they provide important resources. I chose Chatham Mills as one of the sites because Chatham Marketplace is an important source for locally grown food, and much of this food relies on pollinators. I have also done pollinator awareness activities at Chatham Marketplace since it opened. I designed the garden with lots of help from my friend Lauri Lawson of Niche Gardens.
The main part of the Chatham Mills pollinator garden was planted in mid-December 2008. Planting continued throughout the spring of 2009. The garden is managed organically with the help of a small group of volunteers, most of whom are Chatham Marketplace owners.
If you are interested in being a volunteer, or want to be added to my email list, email me at Debbie_Roos@ncsu.edu.