2017 Chatham County Beekeeping School
An eight week course sponsored by the
Chatham County Center of North Carolina Cooperative Extension
and the Chatham County Beekeepers' Association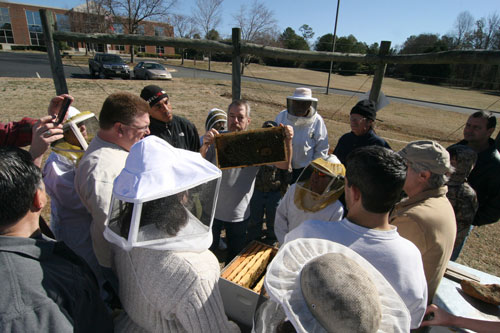 Date: Mondays, 6:30-9:00 p.m. from January 9-March 6, 2017; optional Ask a Beekeeper sessions begin at 6:00 p.m. before each class.
Location: Chatham County Agriculture & Conference Center, Pittsboro, NC
Cost for 8-week course (includes book + resource notebook): $90.00 
The school will include hands-on sessions and hive inspections as weather permits.
View the Course Outline below.
Deadline for registration: December 1, 2016*. To register, you must send in a registration form along with your check.
Download a registration form. Please fill out the form on-line, then print it and mail with your check.

* Register early! Space is limited and we always fill up before the deadline and have to turn people away! Due to the high demand for our school, first preference will be given to Chatham residents and/or current members of the Chatham County Beekeepers' Association. If there are still slots available after the December 1 deadline, we will admit students from outside the county on a first come, first served basis. We will send an email confirmation of registration on or before December 5. Checks will be returned for those who did not make it into the school.
For more information: Call 919-542-8202 or email Debbie Roos and put "Bee School" in the subject line.
Course Outline
for 2017 Beekeeping School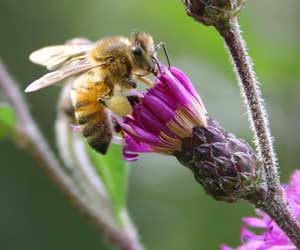 [Week 1]: January 9, 2017
Introduction to Beekeeping
Speakers: Debbie Roos, Chatham County Cooperative Extension; Larry Daw, Chatham County Beekeepers' Association (CCBA)
Course overview/the "big picture"
Resource list (websites, publications, organizations, equipment suppliers, listserv)
Basic equipment (smoker, fuel, hive tools, protective equipment, etc.)
Basic hive parts (bottom boards, hive body, supers, frames, inner cover, outer cover)
Introduction to Chatham County Beekeepers' Association, North Carolina State Beekeepers' Association, and the NC Master Beekeepers Program
No class on January 16 in honor of the MLK holiday!
[Week 2]: January 23, 2017
Biology and Life Cycle of the Honey Bee
Speaker: Nancy Ruppert, North Carolina Department of Agriculture and Consumer Services
Ecological context; Hymenoptera
Anatomy and physiology
Individual caste life cycles, duties
Hive life cycle (brief intro to what bees do in each season)
Communication: pheromones, dancing
Brief intro to races
[Week 3]: January 30, 2017
Starting a New Hive
Speaker: Jennifer Keller, North Carolina State University
Site considerations: location, neighbors, ordinances
Getting your own: package bees, nucs, swarms, buying an existing colony or split (advantages, disadvantages, and cautions of various sources)
Installing bees
Making or buying a nuc
Caring for the bees (more to be covered in Hive Management)
The importance of feeding after installation
Sources for bees – state certified
[Week 4]: February 6, 2017
Equipment and Frame Assembly
Speakers: Ray Wise, CCBA, and other members of the Chatham County Beekeepers' Association will lead small groups
Review of basic equipment and hive parts (bottom boards, hive body, supers, frames, inner cover, outer cover) and what and how they work together; buying vs. building
Other equipment (queen excluders, feeders, hive straps, moving frame, staples)
Plans for making own hive bodies and supers
Sources for equipment
Frame assembly demo
[Week 5]: February 13, 2017
Hive Management
Speaker: Nancy Ruppert, North Carolina Department of Agriculture and Consumer Services
Late winter/early spring
Honey flow prep; post honey flow
Summer management
Fall and winter management
[Week 6]: February 20, 2017
Pollinator Gardens; Bee Stings
Speakers: Debbie Roos, Chatham County Cooperative Extension; Dr. Erik Butler, MD
Honey plants and the principles of planting a bee garden
Bee stings: what to expect, how to minimize them, medical responses, and how to treat
[Week 7]: February 27, 2017
Honey Bee Pests, Diseases, and Integrated Pest Management
Speaker: Don Hopkins, North Carolina Department of Agriculture and Consumer Services
An overview of the most common pests and diseases of honey bees with an emphasis on the most problematic
IPM strategies: resistant breeds, screened bottom boards, proper maintenance, checking population, proper use of pesticides, mechanical controls
[Week 8]: March 6, 2017
NCDA Hive Inspections; Certified Naturally Grown; Expert Beekeeper Panel
Speakers: Moya Hallstein, CCBA; Don Hopkins, NCDA&CS; Gerald Wert, CCBA, and Chatham County Beekeeper Panel
NCDA hive inspections
The Certified Naturally Grown standard for beekeeping
Open discussion with expert beekeepers