Register Now for 2015 Chatham County Beekeeping School
Posted On

October 27, 2014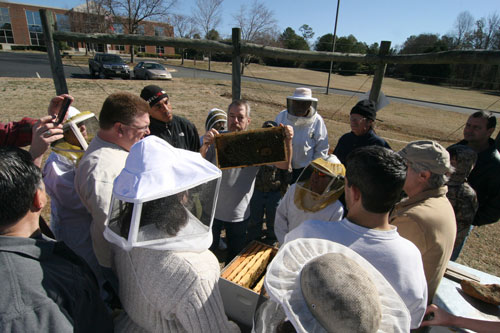 Back by popular demand…the Chatham County Center of North Carolina Cooperative Extension will team up again with the Chatham County Beekeepers' Association to conduct an 8-week Beekeeping School in early 2015.
We are doing a beekeeping school to introduce others to the joys of beekeeping, and to increase the number of skilled beekeepers in our region. Come join us and find out how fun and rewarding beekeeping can be!
The school will be held on Monday evenings from 7:00-9:30 p.m. at the Agricultural Building Auditorium in Pittsboro. Classes run from January 12-March 9. The primary audience for the school is beginner beekeepers, but others may wish to come for a refresher.
The cost for the entire 8-week school is $90 for members of the Chatham County Beekeepers Association and $95 for non-members. Participants will receive a book AND a resource notebook.
Every time we do a Bee School we sell out and have to turn people away. Due to the high demand for our school, first preference will be given to Chatham residents and/or current members of the Chatham County Beekeepers' Association. If there are still slots available after the registration deadline, we will admit students from outside the county on a first come, first served basis.
To view the course outline and download a registration form, go to the Growing Small Farms website.
To register, send in payment along with your registration form. The deadline for registration is December 3.
For more information, email Debbie Roos or call 919-542-8202.
For more information about the Chatham County Beekeepers' Association, visit their website.