Vegetable Disease Alerts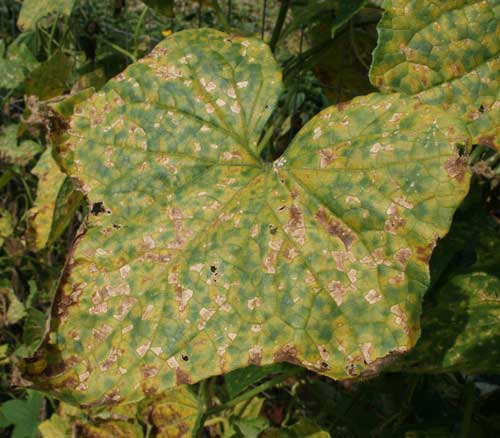 North Carolina farmers and gardeners growing vegetables should be aware that cucurbit downy mildew (pictured above) has been detected in several counties in North Carolina and there are unconfirmed reports of late blight of tomato and potato in the state.
Cucurbit downy mildew has so far been confirmed in Franklin, Johnston, Sampson, Nash, and Wayne counties. Late blight of potato and tomato has been confirmed in surrounding states and is likely already here in NC.
Photos of cucurbit downy mildew in Chatham County (2011)
Photos of late blight of tomato in Chatham County (2009)
Growers should consider taking action now to protect their crops. It is important to actively and regularly scout crops to look for symptoms. Organic growers can use copper-based products to slow down disease progression. Some organic growers have also found Oxidate to be helpful in slowing these diseases. Sprays should be applied before rains and after rain when the plants have dried (follow label directions).
I have a good discussion of organic management of tomato late blight on my Growing Small Farms website from a previous outbreak.
Our NCSU Plant Pathologists Dr. Lina Quesado-Ocampo and Dr. Kelly Ivors have developed disease management fact sheets for both cucurbit downy mildew and late blight which include photos plus preventive strategies and pesticide recommendations for conventional growers.
NC State University Fact Sheets:
If you think you have cucurbit downy mildew or late blight please contact your local Extension Agent and send photos and/or physical samples to the Plant Disease and Insect Clinic.
Was the information on this page helpful?
Care to tell us why? Send Explanation
This page can also be accessed from:
go.ncsu.edu/readext?226979