Small Ruminant Parasite Control Training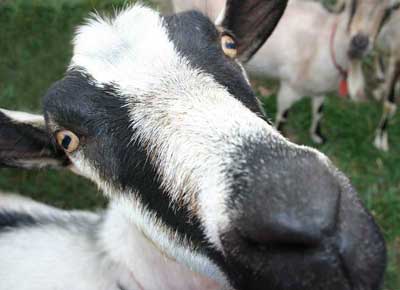 On Thursday April 25, Chatham County Cooperative Extension will conduct a Small Ruminant Parasite Control Training from 9:00 am to 3:00 pm at Celebrity Dairy in Siler City for folks who raise goats and sheep.
North Carolina State University Meat Goat Specialist Dr. Jean-Marie Luginbuhl will conduct this hands-on training session for the FAMACHA parasite evaluation system and to teach producers how to conduct a fecal egg count on manure samples. Celebrity Dairy's Brit and Fleming Pfann will be cooking lunch and there is a fee for the FAMACHA certification so there will be a $20 fee to cover the costs of the workshop.
This workshop will expose the audience to an integrated approach to gastrointestinal parasite control for small ruminants, the biology of the barber pole worm (H. contortus), the FAMACHA concept and hands-on use of the FAMACHA card, the concept of smart drenching, understanding parasite drug resistance vs. animal resistance, susceptibility or resilience to gastrointestinal parasites, management tips to reduce gastrointestinal parasite loads in animals and on pastures, and non-chemical approaches to treating small ruminants with anthelmintics such as alternative forages.
If you will collect a fresh fecal sample from your herd, you will have the opportunity to learn to do fecal egg counts on the herd that matters most to you! The samples must be refrigerated continuously from collection to reading – so bring a cooler to keep your samples fresh until we are ready for that portion of the workshop.
Space is limited and pre-registration is required. To register for this workshop, email Marti Day or call 919-542-8202.
Was the information on this page helpful?
This page can also be accessed from:
go.ncsu.edu/readext?212397